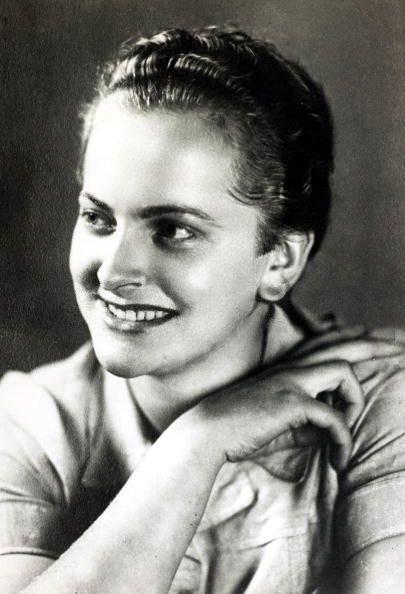 1) Irma Grese - (October 7, 1923 - December 13, 1945) - The guard of the Nazi death camps Ravensbrück, Auschwitz and Bergen-Belsen.
Among Irma nicknames were "the devil Blonde," "Angel of Death", "Great Beast." For torturing prisoners she used emotional and physical methods, beaten to death and women enjoyed an arbitrary shooting of prisoners. She starved her dogs, then to incite them to the victims, and personally took away hundreds of people to be sent to the gas chambers. Dreaming wore heavy boots, with her ​​always, in addition to the gun, was braided knut.V postwar Western press is discussed possible sexual deviation Irma Grese, its numerous connections with the SS of protection, with the commandant of Bergen-Belsen, Josef Kramer ("Belzenskim beast").
April 17, 1945, she was captured by the British. Belzensky process initiated by a British military court lasted from 17 September to 17 November 1945. Together with Irma Grese in this trial were considered the case of other employees of the camp - the commandant Josef Kramer, matron Yuanny Bormann, nurse Elizabeth Folkenrat. Irma Grese was convicted and sentenced to be hanged.
On the last night before his execution Grese laughed and sang songs together with her ​​colleague Elizabeth Folkenrat. Even when on the neck of Irma Grese threw a noose, her face remained calm. Her last word was "Faster," converted to the English executioner. 2) Ilse Koch - (September 22, 1906 - September 1, 1967) - German NSDAP activist, wife of Karl Koch, commandant of Buchenwald concentration camp Majdanek. Best known under the pseudonym as "Frau Shade" earned him the nickname "Buchenwald witch" for the brutal torture of prisoners camp. Koch was also accused in the manufacture of souvenirs made ​​of human skin (but in the postwar trial of Ilse Koch credible evidence of this has not been shown). June 30, 1945 Koch was arrested by American troops in 1947 and sentenced to life imprisonment. However, a few years later the American General Lucius Clay, the military commander of the American occupation zone in Germany, freed her, considering allegations of saluting orders the execution and production of souvenirs made ​​of human skin proved inadequate. This decision sparked protests from the public, so in 1951, Ilse Koch was arrested in West Germany. German court again sentenced her to life imprisonment. September 1, 1967 Koch had committed suicide by hanging himself in a prison cell Bavarian Eibach. 3) Louise Danz - b. December 11, 1917 - women's concentration camp guard. Was sentenced to life imprisonment, but later released. She began working in the concentration camp Ravensbrück, and then she was transferred to Majdanek. Danz later served at Auschwitz and Malchow. prisoners later told that they had been ill-treated by Danz. She beat them confiscated issued for winter clothing. In Malchow where Danz had the position of senior matron, she morila prisoners hunger, not giving food for 3 days. April 2, 1945 she murdered a minor girl. Danz was arrested on June 1, 1945 in Lyuttsove. On lasted from November 24, 1947 to December 22, 1947 Court of the Supreme National Tribunal, she was sentenced to life imprisonment.Released in 1956 for health reasons (!!!). In 1996, against her was charged with the murder of the aforementioned child, but it was withdrawn after doctors said Danz will be too hard to bear re-imprisonment. She lives in Germany. She is now 94 years old. 4) Jenny Wanda Barkmann - (May 30, 1922 - July 4, 1946) In the period from 1940 to December 1943 worked as a model.In January 1944, she became matron in a small concentration camp Stutthof, where she became famous for severe beating of women prisoners, some of whom she beat to death. She also participated in the selection of women and children in the gas chambers. It was so brutal but very beautiful women prisoners nicknamed her "Perfect Ghost." Jenny ran out of the camp in 1945, when Soviet troops started coming to the camp. But was caught and arrested in May 1945 while trying to leave the station in Gdansk. She is said to have flirted with the policemen guarding her and not particularly worried about their fate.Jenny-Wanda Barkmann was found guilty, after which she was given the last word. She said, "Life is really a great pleasure, and pleasure is usually short-lived." Jenny-Wanda Barkmann was publicly hanged on Biskupská Jam near Gdansk July 4, 1946.She was only 24 years old. Her body was burned, and the ashes were washed into the public restroom of the house where she was born. 5) Herta Bothe Gertrude - (January 8, 1921 - March 16, 2000) - women's concentration camp guard. Was arrested on charges of war crimes, but later released. In 1942, received a job offer matron in a concentration camp Ravensbrück. After a four-week pre-service training Bothe was sent to the Stutthof concentration camp, located within walking distance from the city of Gdansk. In it Bothe was nicknamed "Shtuttgofskaya sadist" because of the ill-treatment of women prisoners. In July 1944, was sent to a concentration camp Gerda Steinhoff Bromberg-Ost. On January 21, 1945 Bothe was matron during the death march of prisoners held by central Poland to the Bergen-Belsen camp. The march ended 20-26 February 1945. In Bergen-Belsen Bothe led a detachment of women, which consisted of 60 people and is engaged in the production of wood. After the liberation of the camp was arrested. On Belzenskom court was sentenced to 10 years in prison.Released before the deadline December 22, 1951. Died on 16 March 2000 in Huntsville, USA. 6) Maria Mandel (1912-1948) - Nazi war criminal. Occupying the period 1942-1944's post headmistress female camps concentration camp Auschwitz-Birkenau, directly responsible for the deaths of about 500 thousand women prisoners. Colleagues service Mandel described as "extremely intelligent and dedicated" person. The prisoners of Auschwitz together called her a monster. Mandel personally make the selection of prisoners, and thousands of them sent to the gas chambers. There are cases when the person at the time Mandel took under his wing a few prisoners, and when they get bored with it, make it into lists for destruction. Also, it was Mandel's idea and creation of the women's camp orchestra who met at the gate of the newly arrived prisoners cheerful music. According to the memoirs of survivors, Mandel was a music lover and was friendly to the musicians of the orchestra, who personally came to him in the barracks with a request to play something. Mandel in 1944 was transferred to the post of commandant of the concentration camp Muldorf, one part of the Dachau concentration camp, where he served until end of the war with Germany. In May 1945, she fled to the mountains near her hometown - Myuntskirhena. August 10, 1945 Mandel was arrested by American troops. In November 1946, she was like a military culprit was assigned to the Polish authorities at their request. Mandel was one of the main figurantok trial of Auschwitz staff, held in November-December 1947. The court sentenced her to death by hanging. The sentence was executed January 24, 1948 in Cracow prison. 7) Hildegard Neumann (May 4, 1919 Czechoslovakia -?) - senior guard at concentration camps Ravensbrück and Theresienstadt. Hildegard Neumann started its service in the Ravensbrück concentration camp in October 1944, becoming immediately chief matron. Due to the good work, she was transferred to the concentration camp Theresienstadt as head of the camp wardens. Beauty Hildegard vote prisoners was cruel and merciless towards them. It controlled 10 to 30 female police officers and more than 20,000 women-Jewish prisoners. Neumann also contributed to the deportation from Theresienstadt more than 40,000 women and children in the Auschwitz death camp (Auschwitz) and Bergen-Belsen, where most of them were killed. Researchers estimate that more than 100,000 Jews were deported from the camp of Theresienstadt and were killed or died in Auschwitz and Bergen-Belsen, another 55,000 died in the Theresienstadt. Neumann left the camp in May 1945 and did not incur criminal responsibility for war crimes. Subsequent fate is unknown Hildegard Neumann. They also had fun doing the plan for murder.Beasts in human form